Configure an Application for RADIUS
The Remote Authentication Dial-In User Service (RADIUS) is a networking protocol that offers centralized authentication, authorization, and accounting management for users who connect and use a network service. RADIUS is primarily used by Internet Service Providers and enterprises to manage access to the Internet or internal networks, VPNs, and network services. This documentation specifically guides users through the process of configuring RADIUS on the Monosign Cloud platform, ensuring a seamless and secure integration for user authentication and management.
DNS, IP Addresses and Ports
While you configuring your environment and application talks through RADIUS, you need to specify your external IP address that comes from your traffic to our servers.

Following DNS and IP addresses uses globally to handle regional requests for RADIUS servers. Use the nearest region to your servers location for low latency.
| Region | DNS | IP Address |
| --- | --- | --- |
| US East | us-east.radius.monofor.com | Dynamic IP |
| US West | us-west.radius.monofor.com | Dynamic IP |
| EU | eu.radius.monofor.com | 159.223.249.153 |
| APAC | apac.radius.monofor.com | Dynamic IP |
Ports
| Port | Description |
| --- | --- |
| UDP/1812 | Authentication and Authorization |
| UDP/1813 | Accounting |
Adding your External IP Address to your Application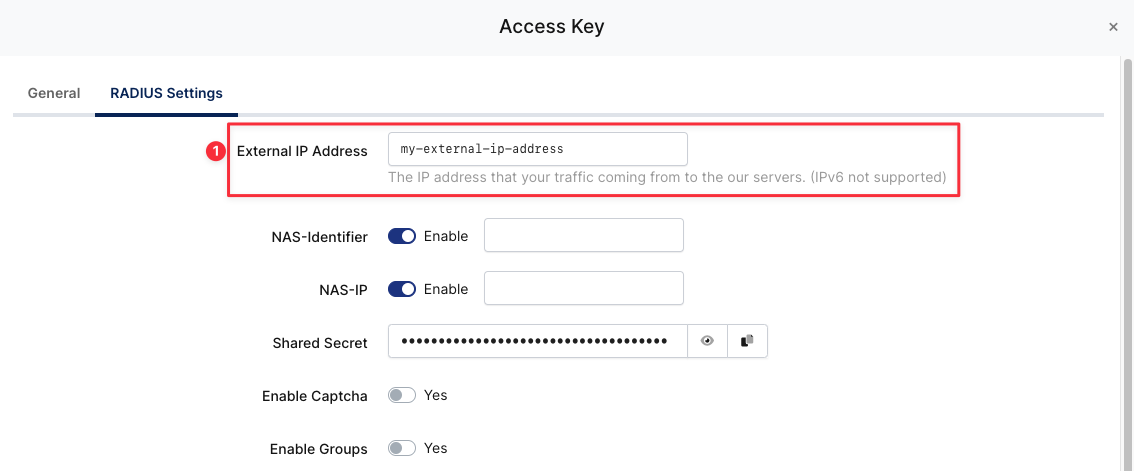 Put your Unique IP address for your external communication.
Monofor only supports PAP for global support right now. Additional methods will be supported in the future.